Year: 2015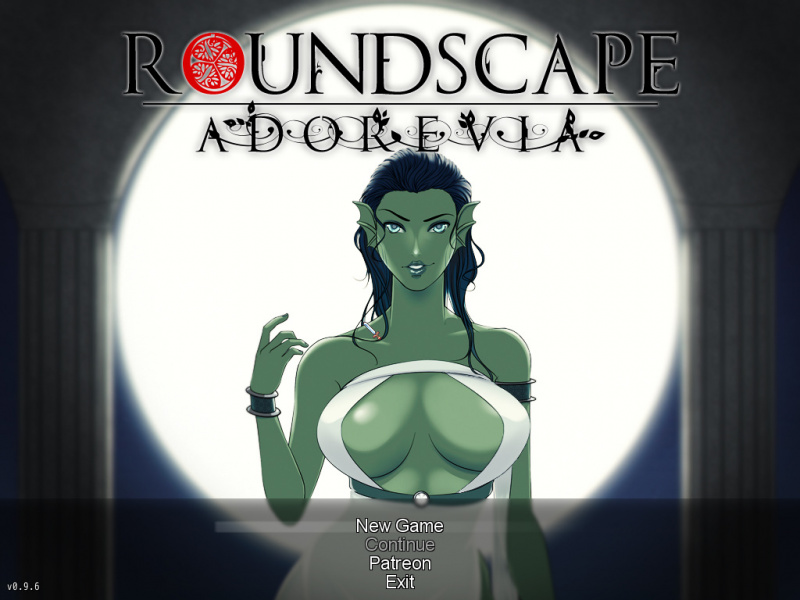 Censorship: No
Developer/Publisher: Kaliyo, Red Dakkar
Platform: PC/Windows
Version: v.5.4
Language: English
System requirements:
OS Microsoft Windows (64-bit)
CPU Intel Pentium 4 2.0 GHz equivalent or faster processor
RAM 512 MB or more
HDD ≈ 4.2 GB
1024 x 768 pixels or higher desktop resolution
RPG MAKER
Description
Roundscapes: Adorevia is a new erotic fantasy game brought to you by Kaliyo and the Red Dakkar, smut author extraordinaire! The world of Adorevia is one frought with danger, but also adventure for those brave enough to seek it. Walk the lush forests, see the magnificent dwarven city-states, and help stop a terrible threat that could spell doom to countless innocents as you head out on your quest! Of course, along the way, you'll find other brave souls willing to share in your adventures, and perhaps, your bed.
Installation

1- Extract to desired location
2- Click on "Game.Exe" Play game.
How to transfer save files

1. Transfer the save files into a different folder, keep them there and don't touch them yet

2. Download the new patch/build

3. Start the game, start a new game and save on the exact save slot your old save file used

4. Copy in your save files 5. Start the game, it should work now
Trouble Shooting

If your game is stuck at "Loading Now" make sure to move the game folder to another location. This bug usually happens when your game folder is located at Downloads or on your Desktop Instead on your C/D/E Harddrive folder.
Cheat Codes

1700 - Super Speed
1819 - Gold
2931 - Skip Combat Skill
Changelog

v5.4

One new location added to Summeredge: The Broadfield Mansion
Four new NPCs added to Summeredge.
One new Sidequest and four encounters featuring the Broadfield Family, this sidequest leads you to a mysterious new plane where you'll have to choose between two paths.
Six new erotic CG Scenes. Two for each gender and two shared scenes.
New Class: Void Knight - Somewhat of a dark counterclass to the Paladin. A strong tank with some good selfbuffs and heals.
Fixed Issue where you would get stuck during a specific Succubus Scene
Fixed Issues with sprites having the wrong z-layer
Fixed Issue with the Oakshire section of the gallery
Fixed some typos and smaller issues with the gallery

 

 

v5.3B
Bugfix

 


v5.3

New Brothel Character - Hire an exotic Nexilim from Ornesse for your brothel. Includes a new CG Scene for both genders.
New Brothel Character - Hire a feisty goblin for your brothel. Includes a new CG Scene for both genders.
New Brothel Character - Hire a curvy minotaur for your brothel. Includes a new CG Scene for both genders.
New Brothel Character - Hire a... secret character? Includes a new CG Scene for both genders.
Fiery Fun - Two new CG Scenes for Male PC with Veronica
Radiant Quests - Complete radiant quests and gain Persuasion Power and Brothel Reputation in return.
Lady of the House - A new Event/Quest for when your brothel reaches max reputation. Includes a new CG Scene for both genders.
Gallery unlock - You can now unlock the gallery scenes by providing certain Items.

And of course a lot of smaller stuff that improve the immersion and soul of the brothel.
Bugfixes
- Fixed a bug where Meredith would disappear after her pregnancy
- Fixed several Gallery bugs, we're not all there yet but the gallery will be soon completely polished
- Fixed several smaller issues such as stuck parallax graphics and typos

 

 


v5.2

Player Brothel - You can now visit and manage your own brothel. The brothel is consideren mid/endgame content. Upgrade your brothel and hire new characters to rise your brothel's reputation level!

Your brothel comes together with several new characters, including Veronica who'll help you manage your new location!

 

Hire several characters - Five different characters you can recruit and we'll double that number with the second brothel update in february! Four of them can be recruited by all players, one of them is exclusive to the farm origin.
 
Sexy time - Of course every brothel characters comes with their own erotic scene. But there's als one additional erotic scene per gender, so seven in total.

Some of those scenes have variations and one new character has two different paths to chose from. Will you obey madame Veronica or try to show her who's the boss.

 

Fixes - We've fixed several bugs related to the questlog, especially in act 2. No more confusing "go to sleep" journal entries. We've also added new hints to locations to make progressing Act 2 easier.

 


v5.1
10 New CG Scenes, new events & a lot of bug fixes

 

 

v4.8

New sexy encounter featuring Meredith and her elemental spirits! Includes a new adult scene for both genders.

New encounter with Katelyn in the Whitemoon Ruins including a new erotic scene for male player characters and an optional branch for those who are in good terms with Clawyn.

New adult scene for female player characters and a certain castle companion. Triggers when going to bed in your room.

Visit Galhart and his wife in Novos for a new encounter including an adult scene for male player characters.

New Encounter for female player characters who have chosen the farm origin. Requires Katelyn! Visit the Slinsk Pub to trigger it.

Throne Hall customization is back! Choose one of seven designs to customize your castle

Throne Events! Seven small events added in which you have to make decisions regarding the land you reign.

Select an Advisor to be granted bonus affection when choosing specific replies during the Throne Events.

Quick saving! Press F5 to save anytime. We'll add a visual indicator next patch. We've also locked the first two save slots (Auto & Quick) so you can't override those on accident.

And of course a few bugfixes and QoL changes.

 

 

 

v4.6a

Fixed bugs

- Vesunna bug fixed where you would be stuck with vesunna after entering the first destroyed home.

- The new gangbang scene with Felicia now works as intended

- The Felicia and Zeyga Gloryhole scenes now work as intended

- The Dialogue with Khalifa after her erotic scene in the naga city will no longer loop

- The Blue Viper in Vesper's Booty will no longer move away from the island

- Nexilim Guards NPC dialogue fixed in the meeting hall

- Player's Ship HP and Damage increased to make Vesper's Booty a more smooth experience.

 

 

 

v4.6

New Content Glory and Holes Five new sexy scenes have been added to the abandoned quarters in Castle Whitemoon. Three for our male protag and two for our female protag. Featuring: The Succubus, Zeyga, Felicia, The Minotaur Blacksmith and some dude. Slimy Intruder Here's the scene you voted for a few months ago! A new CG Scene for our female protagonist featuring: Slime! Orc Gang Training Bang Catch Felicia training your orc guards together with a special guest. Available for both genders. Wakey, wakey. A new erotic scene with our succubus and the male protagonist. You folks voted for her in the companion poll and we deliever. The Duke New Aftermath Encounter for the female protagonist after Meredith's CQ in Oakshire. Dark Elf Secrets New NPC added to castle whitemoon including a new erotic scene for our male protagonist. Reunion When you visit certain Farm and Noble Origin NPCs with Katelyn in your team, special events may occur including a new erotic scene for both genders. Bugfixes Zent CQ Sestria Path fixed Barrel Quest in Valorn fixed Vesunna Questline fixed Caelan Sprite no longer shows up before you recruited him Kraken Fight in Vesper's Booty fixed Tish Tent scene fix when you decline her offer Several typos and combat bugs fixed

 

 

 

v4.4a

- The Teya X PC Scene now works as intended. The Female PC variation no longer appears after the male PC scene.
- Entering combat with twilia in your party no longer results in a crash
- The Rulwe CQ can now be completed as intended.
- The Dialogue during the new fairy encounter no longer loops
- The new Zeyga scene can now be triggered as intended

New Content

New Companion Quest - Discover an ancient secret during this new companion quest for our Rulwe Tentacle Friend. Features a new erotic scene for both genders.
New Quest - Galvin suspects that his wife is cheating on him. Will you help him in finding out the truth? Features a new erotic scene for both genders.
New Encounter - Help the elven village in the deep forests with a somewhat unusual ritual. Comes with a new erotic scene for the male PC.

New Castle Location: Forgotten Ruins
New Castle NPC: Natalia
New Quest - Help Natalia get back home. To do so you need to collect crystals hidden around Adorevia. Features two new erotic scenes for our male PC.

New Encounter - Takes place at the start of the game in Oakshire. Includes a smaller erotic scene for both genders.
New Encounter - Zeyga doubts her past as she asks you for advice. Will she reunite with Zent? Features a new erotic scene for both genders.
Mini Erotic Scenes - We've added four new mini scenes which can be found in Oakshire, Xas and Castle Whitemoon.

Bugfixes

Succubus Skill "Curse" now works as intended
The Queen Alistia Quest can now be completed.
We've went back to the old combat UI because of the feedback we've got
The empathy option in the summeredge mainquest no longer results in a dialogue loop
The orc tent encounter no longer can be repeated
The Soldier origin UI in the character creation has been fixed
Ruksana's Skills "Unleashed Attack" and "Bleeding Strike" now deal damage as intended
The Ornesse Pub job no longer has the risk of not spawning the tavern guests
Several typos