Year: 2017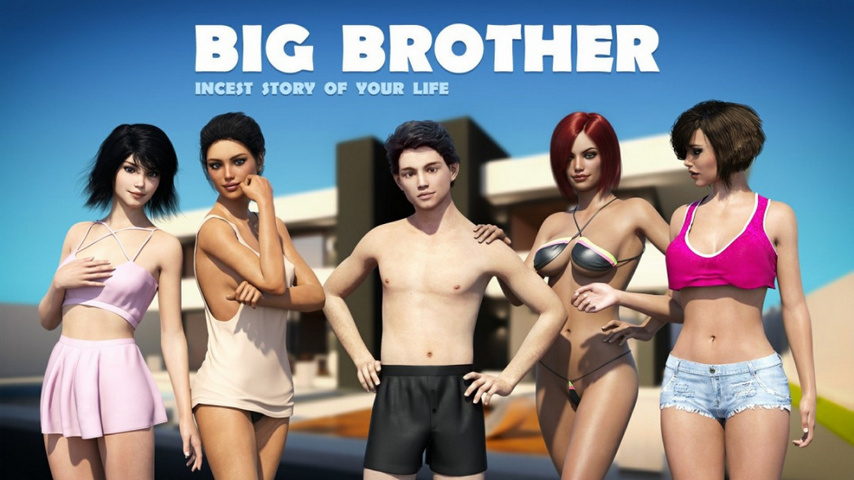 Censorship: No
Developer/Publisher: Dark Silver
Platform: Windows
Version: v0.13.0.007
Language: English/Russian
System requirements:
CPU: Pentium 4 2.0GHz
DirectX 9
RAM: 1 GB
VRAM: 512 MB
HDD: 1,84 GB
Description:
The main character is Max, a guy living in a poor family with his mother and two sisters. However, most recently the family received a gift from Max's father - a huge house with a pool! But there is still no money and you need to somehow hold on. Will Max manage to earn money, will it be possible to seduce all the women in his family and achieve something in life - it already depends on the player.
Info

How to switch Russian/English? Press L or select the appropriate item in the settings.

How to view information about relationships and the level of your skills in numerical form? Ctrl + Shift + D

The game doesn't load. Make sure the game's read-only attribute is off.
Changelog

v0.12.0.005
● Anna gets a new job ● Development of relations with Anna on the basis of the features of the new work ● A series of sex education lessons with Lisa and Anna ● A new line for the development of relations with Olivia (if you did not choose her earlier) ● New character Diana, Olivia's mom ● New location: Olivia's house ● New movie

 

v0.11.0.003
● The main emphasis on the development of the "Role change" feature: ● New events with Katya, Max and Alice ● A large series of new TV events with Alice ● New events with Alice, Max and Lisa in the living room ● Alice Web Show Development: New Events ● New events in the clinic ● Changes to the night event with Alice and Max ● Changed several events with Anna ● Changes in Alice's punishments, including under Kate ● Fixed some errors in events, as well as typos in the text ● Updated 61 images from a series of events with the training of Lisa

 

v0.10.0.004
● The development of events at night with Alice due to a spider, the subsequent chain of events and the main plot for the thematic addition 0.11. ● Of course, a new film (by the way, the longest in the number of frames). ● Two new features: "side effect" and "role change". ● A series of events for one of the new "side effect" features. ● A new location "clinic" to visit, a new character. ● Development of night events with Anna in the bedroom. ● Developments with Anna in the bathroom. ● The ability to watch erotic and porn videos in the living room with Anna. ● A series of events with dressing up Anna before shopping. ● Now you can be present when dressing Alice and Lisa before shopping.

 

v0.9.0.007
● The requirements for Lisa have changed to arrange a blowjob in the store's locker room and bathroom. ● Fixed a bug where players managed to have anal sex with Lisa in the kitchen before she stopped wearing panties in the house. ● A bug was fixed when Alice ran for help with a spider when Katya was in the house, which led to conflicts between events. ● Fixed some typos. ● Fixed some situations with displaying incorrect avatars in dialogs.

 

v0.9.0.006
● Of course, a new movie has been added. This time with the participation of Alice, mom and Max. It seems that the Max family is becoming more liberated ... ● Kira will be able to move again to the living room, and Max will have a chance to take advantage of this situation. ● Depending on a certain progress in the relationship, Max will be able to go into the room to Alice while she changes clothes for courses or to her friend. A similar event was added for Lisa, while she was going to school. ● Added the ability to privately punish Alice on Friday night, while she is going to the club. ● A new event with mom in the evening in the bathroom. It becomes available after the appearance of Max "tunnel syndrome." ● A new interface for switching to other gaming zones has appeared. There are only two of them so far, but new ones will be added in the future. At the moment, Max can go on dates with Lisa, as well as visit a cafe. ● An important series of events and dialogs with Lisa, as well as Vika, a new character. ● After some progress, an experimental tool (infinite) appears in the store that makes it easy to catch spiders. ● Yes, now Max will be able to protect Alice from spiders, receiving some reward. ● The game has appeared shopping. I will not disclose the details, I think you yourself will see everything. At first, I planned to open the opportunity to go shopping from the moment Eric disappeared, but I thought that some of the events where the relationship between Max and his family are still not liberated were lost and opened shopping from 22 playing days. Maybe something is not taken into account. If you find errors, write, correct.

 

v0.8.0.005
● Development of a career opportunity: a new film with Max and his mother, as well as some sequel. ● Max has the opportunity to punish the sisters after dinner in a private setting. (To open this branch you need to punish properly with all both sisters). These are 3 different series of events: Alice Alone, Alice with Katya and Lisa. ● Lisa will discover something new. A special lesson with Kira, as well as a series of events on this topic. You will also receive hints about the possible development of relations with Lisa in the future. ● And also something else.

 

v0.7.0.003
● A chain of dialogues and events related to Mom's new work in the porn industry (new Career opportunity). I would tell more, but spoilers) ● The development of the "Blogger" opportunity. Now you can not only look at Alice, but also ... You will see everything for yourself. ● Development of the "Cunning Plan" feature. Katya will be able to come officially. But the most important thing is that Max can now decide something himself. Related new events, dialogs and nice bonuses for Max are also present. ● Massage at the TV with Alice can now change for the better. ● Some changes in the event with yoga. ● Some other interesting changes and events. ● In addition, a lot of work has been done in this version to improve the graphics from 0.6. Earlier, I gave an example of improvements, but it is no longer relevant. A large number of frames were rendered and processed again. Therefore, the quality of new frames from 0.6 is now even higher! Well, the whole new 0.7 graphics has become even better, as you could see for yourself on the frames that I posted for a month. Bug fixes from 0.5-0.6: The error due to which the progress in the capabilities of the "mentor" was reset has finally been fixed. Also, fixed a bug with a large package of weed. Until the opportunity to buy a small package is open, there will be temporarily no development with a large one. I remind you: As usual, on the 2nd of each month a new version for cartridges of $ 40 is released, and on the 7th of each month the same version becomes available for all cartridges from $ 5 and above.

 

v0.6.0.010
● Various new events with Lisa, if she became Max's girl and you went through the main lessons of sex education with Kira. ● For the branch with Olivia, a logical continuation of events was added, namely her nightly visits. In this case, Lisa, of course, also paid a lot of attention. ● If Max is blackmailing Eric and it was decided to temporarily leave him in the family, Eric can be very useful for those who want to find an alternative way to his mother. ● If Eric is finished and he no longer bothers your family, your mother will be fired after some time and she will need the help of Max and Kira. ● Under certain conditions, Max may be able to punish Lisa and Alice in front of everyone. ● Also, Max now has the opportunity to completely avoid any punishments. ● Lisa can be convinced of something about her clothes ... ● Now, if mom is in a difficult financial situation, Max cannot ask her for pocket money. ● If Eric is no longer there, you have the opportunity to find out from Alice what really happened between them. ● There is an interesting periodic hidden event. ● Kira can continue to help Max seduce Mom through bed, so to speak. ● Fixed many bugs from version 0.5, which required updating the game client.

 

v0.5.0.007
● Now in the game there are 2 ways to get rid of Eric. More precisely, one of two. And which one - depends on your decision in the possibility of a "wallet". Each option is good in its own way. I would even say surprises await you. ● If Eric is not in the game, then the military camp is no longer a threat. ● There was a large chain of events associated with Lisa for the option where she is Max's girlfriend. I think you will really like it. Yes, there are even more surprises. ● An interesting series of events has appeared for Olivia's version. ● The development of the "insidious plan." As a bonus, several spicy scenes with Max and his mother were added. ● Now you can convince everyone to sunbathe topless. Especially the spectators of the camera installed by the pool will be pleased. This means that income will increase significantly. ● Some of the new events are now repeatable, so you can enjoy them fully. ● In this version, not a single new event requires any skills or luck checks. This is done as an experiment. Let's see how you like it more. In addition, the dialogue in most events began to consist of a larger number of phrases and new personnel. ● Bug fixes for previous versions: ● At the moment, there is debugging version 0.5. A list of changes will be published before the release, but right now I can talk about corrections regarding previous versions. ● Now, after blackmailing rights, Eric stops teaching Lisa. The fix also works for old saves from 0.4. ● If Eric selected Lisa, and after that you declared war, then Lisa will now automatically return to Max. ● If you boot from saving to 0.5, in which Lisa has Eric and you are at war, Lisa will also return to Max. ● Now progress in the branch of Katya and Alice is changing the clothes in which Katya smokes, as well as what they sleep at night. The fix works for save 0.4 as well. ● Now you can declare war on Eric at any time (if the world) ● Now you can't ask Eric for money if we blackmail him with rights ● Eric now gives a lot more pocket money ● If you first go through the "wallet" opportunity, demand that Eric keep up with the family, and then the "blogger" opportunity, he will not go to Alice anymore. The fix works for save 0.4 as well. ● While Max is in a state of friendship with Eric, the military camp does not threaten.

 

v0.4.0.011
● New character Katya, Alice's friend: a chain of very frank events with side bonuses. ● 4 new "Opportunities", each with many steps. ● New skill "Erotic massage". ● Developing relationships with mom through this same massage. ● The development of Alice's "blog" features. ● Eric surpassed himself. Hold on! ● Finally, there are ways to resist Eric. ● Again, the ability to lose is included. ● Changed the balance of income from cameras. ● Increased the amount at the start of the game ($ 150). ● Saves from version 0.3 are supported. ● Many new dialogs and events. ● Removed DRM protection (as an experiment). ● Online update of game data. ● Fixed translation of fragments remaining from version 0.2. ● Many small changes and corrections.